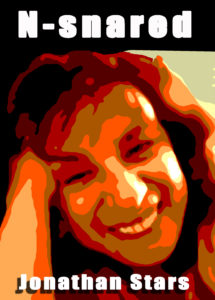 N-snared
Charlie Noble is the manager of a gaming company. But he dreams of creating an intelligence-enhancing app like the world has never seen. So when a virtual reality noir detective game mysteriously appears on his desktop—a game that uses the very technology he needs for his dream project—he goes in search of the reclusive genius who created it.
The only one who knows the programmer is Nick, the star of the game, who is in prison for murder. Nick will only reveal the eccentric developer's name if Charlie [slips into his VR skin and] plays the game to the end, which he swears will prove his innocence.
Reliving Nick's dark investigation into an infidelity case is a torturous odyssey for Charlie, but there are more ominous consequences. Somebody does not want the case reopened, and Charlie finds himself in the crosshairs.
Praise for N-snared
Mind-enhancing technology, scumbags, next generation gaming, callous killers, deranged politicians and their toadys drive you full speed ahead on this page-turning thrill ride.
—Thom Cannell
—Photojournalist, Author
Mesmerizing characters and pacing. The noir genre is injected with tech-savvy-Red-Bull that kept me on the edge until the very end.
—Dan Beard
Surprising, fascinating, intriguing. I highly recommend this immersive, thought-provoking novel.
—Sue Winkelstern
Vividly drawn human (and inhuman) characters. Breathtaking pacing. A terrific book.
—David Rumohr
—Editor
A masterfully engaging blend of sci-fi and mystery.
—John Pogoncheff, D.D.S.
Daringly imagined and impossibly real. A thrill ride that will keep you up all night, leaving you hungry for the sequel.
—Julie Szybowicz